Wearables Magazine's featured article for August '09 focuses on the increasingly popular use of crystal and rhinestone embellishments for the promotional apparel industry, and came to none other than Sparkle Plenty Designs (the "bling" experts) to ask a few questions about these hot trends in rhinestone and crystal.
Whether you're in promotions, fundraising, corporate branding, have an upcoming event/tradeshow – or – you run a business whose audience is primarily female (beauty, spa, salon, etc.), Sparkle Plenty Designs can create the customized crystal or rhinestone apparel of your dreams.
You can see samples of some of the Swarovski crystal and rhinestone logo designs here: Custom Logowear.
Below please enjoy the full Wearables/Sparkle Plenty article:
Shimmering like the summer sun, metallics and shiny apparel remain "in" no matter what the season. Sequins in particular have been huge last autumn and will carry into the holiday season.
But what do to without a wealth of shimmering options? How could you please your sparkle-inspired customers? Think decoration, and look no further than apparel with rhinestones. "Rhinestones are something that have been around for awhile and people have certainly taken a liking toward them," says Lee Sequeira, owner of Sparkle Plenty Designs (asi/88444). "And it doesn't have to be only apparel. I get clients who'd like their cell phone, belts and even water bottles complimented with rhinestones."This summer, workout clothes have received the most attention to add logos or lettering in rhinestones. But the attraction toward particular garments changes with the seasons. "I wouldn't say one item is more popular than others," Sequeira says. "During the winter months, end-users are attracted to hoodies and jackets and during the warmer days they like yoga pants and tank tops."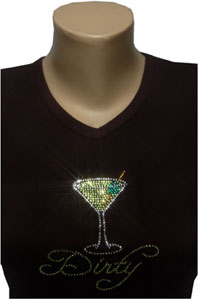 However, if you'd like to bring out the bling in your inventory, make sure to carry a heavy inventory with rhinestones represented in multiple places. Sequeira says customers may be attracted to the location more than the shirt itself. For example, if you're carrying yoga pants, offer a pair with rhinestones on the back, on the sides and a pair on the lower left pant leg. Such a variety will attract the interest of more potential clients.
Call Sparkle Plenty Designs at 1.800.952.0446 and let them bling your message to life.